"To influence and encourage women to become committed followers of the Lord Jesus Christ through fellowship, biblical instruction and serving others, equipping them to share the gospel with those the Lord places in their lives." We are hoping that you all are just as excited as we are about having a Women's Ministry again. We will be serving along side of each other as we grow together in relationship with one another and the Lord, while also working to meet the needs of the women of CBC.

If you would like to help for upcoming events, please e-mail Debbie Gilbert with your phone number and let us know what area that you would like to help with, such as wanting to help with registration, food preparation, decorations, set up, clean up, or even helping us at the ministry table the week before an event, etc.
Facebook
Women's Bible Studies
Weekly Bible Study Times
Thursdays
Time & Location:

7:00-8:30pm | WM Room (Room 700)

Leader:
Debbie Gilbert
Tuesdays




Time & Location:

9:30-11:00am |Currently on break

Leader:
Pam Ealy
Wednesdays




Time & Location:

6:30-8:00pm | CBC Room 600 (on break)

Leader:
Tara Barnett
New Women's Ministry Bible Study
Wives In Prayer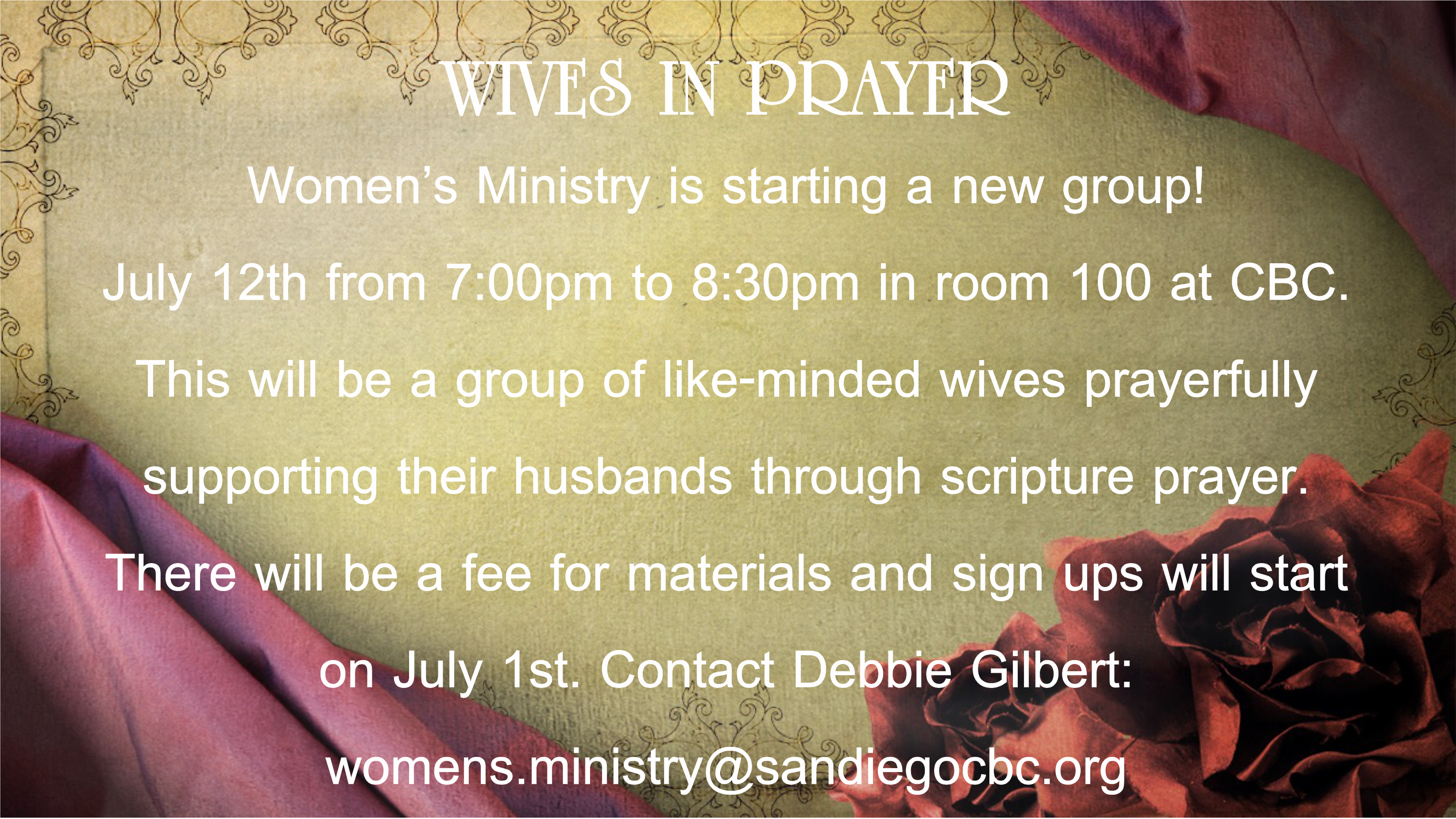 Mom's On A Mission (Currently on Break)
Moms with children of all ages (infant and up) and from all stages are invited to work through Cherri Fuller's book, When Mothers Pray. This book is full of wonderful Biblical and real-life examples of the always and amazing sometimes heartbreaking journey of motherhood. We will lift our hearts and our children up to God together.
We seek to encourage and spiritually equip mothers during their motherhood mission through studying God's Word, supporting one another in prayer, and providing opportunities for fellowship and service. It is our goal that each mother will realize God's perfect design of motherhood and her role in that purpose.
We'll meet twice a month on the 1st & 3rd Wednesdays from 10:00 am to 12:00 pm in room 500 at CBC for a small group Bible study and fellowship with childcare. Childcare is provided for a fee. Registration will cover the book and materials. For more information please email .
Upcoming Events
For more information on upcoming events, please check out our calendar. You can also contact us at: