James Alive!
In the Fall 2017 Quarter of the CBC Bible Institute, we will feature James Alive! This class occurs eight Mondays: 9-11 to 10-30-17, starting at 7:15pm and ending at 8:45pm. It is an interactive study, verse-by-verse, of the book Jesus' half-brother wrote as the senior pastor of the Jerusalem church, whose members had to flee Israel after the martyrdom of Stephen unleashed persecution on all followers of Christ in Jerusalem. They needed counsel and encouragement, and James responded with love and practical help. The book of James has practical help for any Christian.
If you would like to take the class in Room 500 Mondays at 7:15 starting September 11- October 30, 2017, please visit the Welcome Center and sign up there. You may also e-mail Dr. Lon.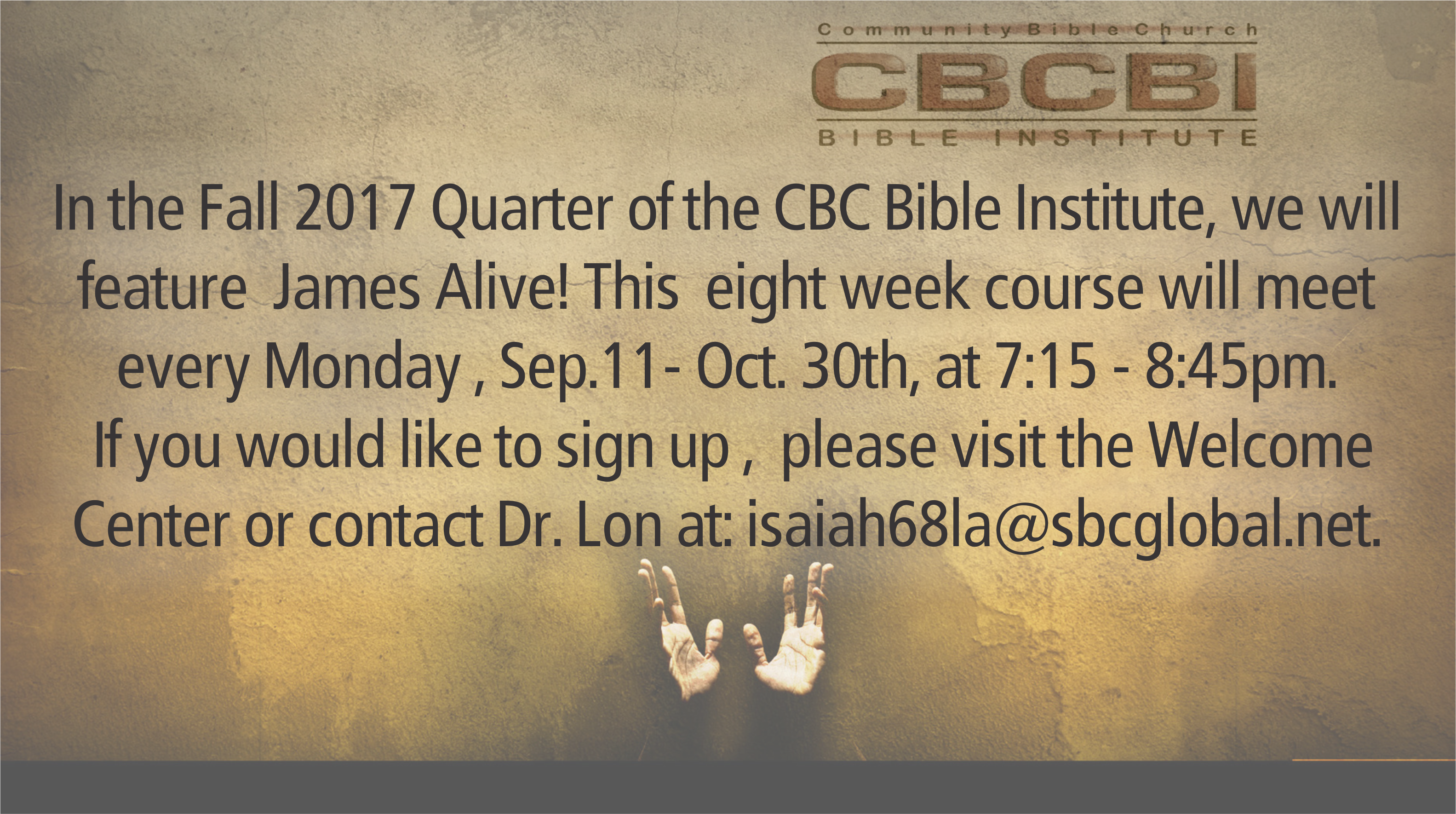 Bible Study Methods
This class, eight Fridays: 9-8 to 10-27-17 from 7:15pm to 8:45pm, in Room 500, will present a number of methods of Bible study to greatly enrich the study of God's Word. I will present a different method of Bible study at each class, then I will show how that method is used in a Scripture passage. Finally, I will give each student a copy of my notes and assign them, in class, to use the Bible study method on an assigned passage of Scripture.
Students will need Strong's Exhaustive Concordance and Nave's Topical Bible for this class. If a student does not have one or both, there will be an order form provided so the instructor can order the book or books or e-books needed (no shipping charge).
If you would like to take the class, sign up at the Welcome Center or contact Dr. Lon.
For general inquiries regarding our Bible Institute, please contact the office.