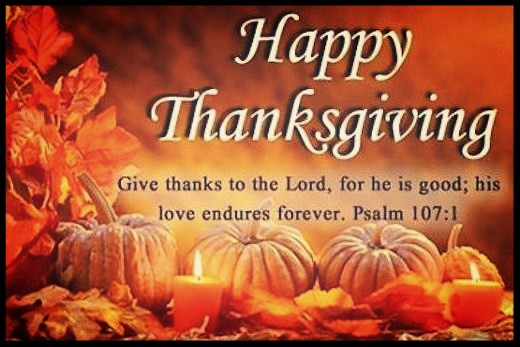 Psalm 107:1 "Give thanks to the Lord, for he is good;
his love endures forever."
Dear CBC Family,
Tomorrow is Thanksgiving. As much as I am looking forward to the food, football and day off there is something more I am seeking to find joy in. It is not what's on the table or even who sits around it. What I am especially after tomorrow morning is to spend the day in conscious thanksgiving to God. I am hoping the friends, family and food will simply be tools that remind me that I, as a Christian, am to be giving thanks in all things for this is God's will for me.
I didn't always like Thanksgiving. The reason for that was that many years ago my conviction was that Thanksgiving didn't seem like a day of thanks to God but simply a day of indulgence. You may be surprised by this, but what changed my mind was a quote I read from John Piper's wife Noel. Yes, his wife, not the great preacher John. She said this "Thinking of special days raises an important question. Some of our most significant events – birthdays, weddings, funerals – honor particular people. At those times, how do we demonstrate that God is at the heart of every celebration? Can we honor God appropriately while focusing so much attention on people? How do we keep God at the center? We can answer those questions in various ways. Paul said, "In Him we live and move and have our being" (Act. 17:28); "For from Him and through Him and to Him are all things. To Him be glory forever. Amen" (Rom. 11:36). Through Him we have birth and life and everything and every person in our lives. So God is the reason we have anything to celebrate. He is the ultimate source of our celebrations. As we read in James 1:17, "Every good gift and every perfect gift is from above, coming down from the Father of lights with whom there is no variation or shadow due to change." When we realize that the child, spouse, the life, the friends, the family are all gifts from our Father, it makes every celebration a "thanksgiving" day, a time to express our heart of thanks to God. Saint Augustine said something that might help us when we worry that making much of a person might somehow be competition for our love of God. "For he loves Thee too little who loves anything together with Thee, which he loves not for Thy sake." In other words, as my husband explains, "If created things are seen and handled as gifts of God and as mirrors of His glory, they need not be occasions of idolatry – if our delight in them is always also a delight in their Maker." So at that point it no longer mattered what others did but what would I do?
So, my friends, on this day I will chose to be especially thankful. I want the day the Lord has given to resound in gratitude for His promise to work everything for my good. The blessings, the trials and even the hostility that sometimes comes due to His word. Whether He gives or takes away……blessed be His holy name!
I pray you will join me in this endeavor to make tomorrow a day of great thanks so as you enjoy that food, fellowship, family and even football there will be an inner communion with God. Let us be grateful to our King who "richly gives us all things to enjoy". And, as we bow our heads around whatever table we may be at tomorrow let our worship of Him be reflected to all in attendance so that they will know who is the only One who is worthy of praise. We are good at calling on God when we are in need, and rightly so, but let's be mindful tomorrow that we should not leap in petition and limp in praise.
As I write this email I cannot help but thank my God for all of you. I am especially grateful to those who serve with us, support us and invest in the lives of others in the fellowship. I am grateful for you.
Blessings,
Scott