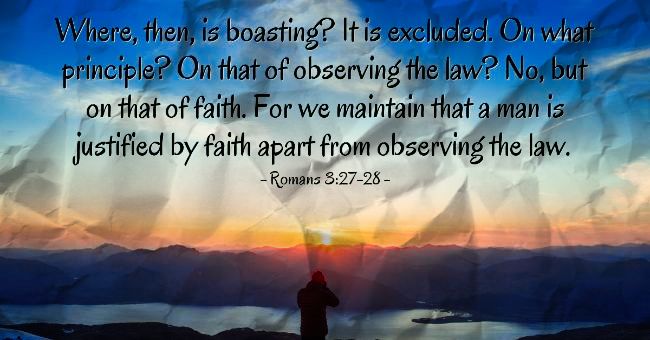 Romans 3:27-31 "Then what becomes of our boasting? It is excluded. By what kind of law? By a law of works? No, but by the law of faith. For we hold that one is justified by faith apart from works of the law. Or is God the God of Jews only? Is he not the God of Gentiles also? Yes, of Gentiles also, since God is one—who will justify the circumcised by faith and the uncircumcised through faith. Do we then overthrow the law by this faith? By no means! On the contrary, we uphold the law."
Dear CBC family,
Have you been watching the lady's world cup? I have liked soccer, I mean real football, since I lived in England. Anyway, the ladies have been doing a great job. Today they just won their group and are off into the knock out stages beginning on Monday with a match against Spain.
There are two things important to the players in any game. First and foremost is that they win and secondarily they want to win by shut out. The term shut out rises within most people compassion because they feel bad for a team that doesn't even score It's one thing to lose but it's a whole different thing to have a big zero on the scoreboard. One of the things that caused so much controversy was that the United States team beat Thailand 13 to nothing in the very first game. Some people were upset and thought the US should stop trying as it was unsportsmanlike to continue to play hard. As the ladies continued to score in that game people were upset because they "celebrated" each score. It looked like "boasting."
Boasting is endemic to the human race. We see it everywhere. A tailback runs through the line for a touchdown and immediately thumps his chest, pumps his arms, and does his own attention-getting dance to celebrate his accomplishment. A politician talks about all of the legislation that passed because he signed on to it (never mind that dozens of others co-sponsored the same legislation!). A little child holds up a stick man drawing with the claim that his picture is better than everyone else's.
I think we've learned to tolerate boasting, even though it likely annoys each of us to some degree, unless of course, it is our personal boast. It's prideful boasting when anyone else speaks of their accomplishments. But it's calling due attention to a significant accomplishment when we do the same. However we view it, we all face struggles with boasting because we all want to think that we have done something worthy of admiration.
The reason I'm bringing this up is for some reason we immediately see boasting in the world and yet do not turn away from the doctrines that promote it in the church. While I don't know of anyone personally who did a victory dance for making a decision for Jesus the idea of contributing to God's work of redemption runs deep today. God's solution to that sin is to declare that salvation is His work alone. To drive the point home, he "shuts us out."
This weekend we will be exploring God's prerogative in justification. We will move forward a few verses into verses 27-30 in a study I called "Shut Out". The reason this is so important to grasp is it completely eliminates all boasting. God's desire is to be exalted for His work of redemption and He simply will not share that glory with anyone else. This will be a fantastic time in the word of God.
Next weekend is the 5th weekend so we will have all the kids in church with the adults and there will be an ice cream social after both services. Nothing sounds better than a root beer float on right after church.
I pray that you are enjoying the Summer so far. I was blessed to be given an opportunity to go fishing next week with my brother up to Mammoth in the eastern sierras. A church up there has a retreat center and they offer it to pastors to have a place to go and unwind. That said, I'll be out next week and my cell phone is really spotty up there. I will get emails at the lodge in the evenings so if you are trying to reach me please be patient.
See you all this weekend.
Blessings my friends,
Pastor Scott