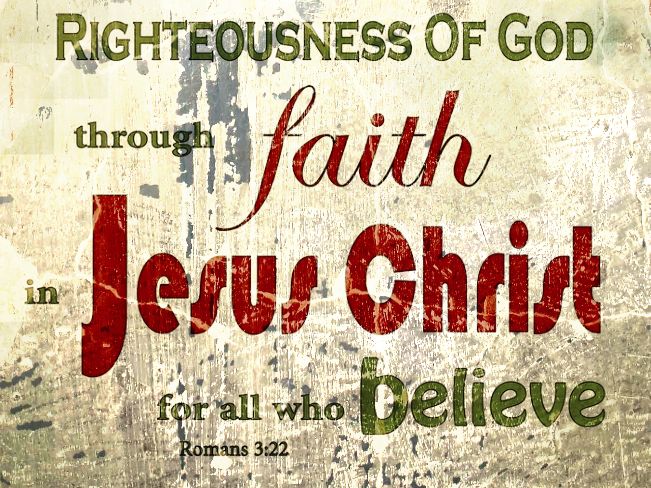 Romans 3:22 "the righteousness of God through faith in Jesus Christ for all those who believe."
Dear CBC Family,
I spent Tuesday evening in prayer and study and ended up pulling another all-nighter. Again, the time was very fruitful and I got much of the sermon for this weekend completed. I love these kind of times with the Lord. In the middle of the night there isn't much distraction, other than the occasional raccoon that runs through the yard. The silence and low light make it ideal for study and communion. Time goes by much too quickly and I never feel tired until the next night.
While I was studying I came across something I had never seen before and can't wait to share it with you. It comes from verse 22 "the righteousness of God through faith in Jesus Christ for all those who believe." I won't share it here but it is a life-changer. I called the message "The Justice of the Justifier" and it will explore exactly what takes place at the initial experience of conversion. I believe this will forever settle the debate between God's sovereignty and what many call today "free will".
As I mentioned to you last weekend, this paragraph is the most important in all the Bible and it is foundation of salvation. If a person gets this wrong, they get the gospel wrong, and won't be saved. We will be in this text for several weeks so pitch your tent and settle in for a great time in the foundation of the gospel. Don't make the assumption that we do not need these things because, quite frankly, they are not taught anymore and without them you have something less than God's good news. Bring a friend who really needs to understand the truth of scripture on how, and why, God justifies the ungodly. You, and they, will be very glad you did!
There are a few things I want to remind you of so you can participate if you have an interest. The first is tomorrow night at 6:45 we will be having our weekly prayer meeting. The Lord has been very faithful to answer prayers from this group. If you have a need join us for an hour and let's call upon Him together and see what He will do. On Monday night the ladies have a Bible study geared around the weekend sermon called "Take a Second Look." This study is really helpful in applying what we have just covered on the weekend. On June 16th right after the morning service is a Taco Sunday fundraiser for the youth camp. The cost is $7.00 per person or $10 for a couple. All the proceeds go towards helping the high school kids attend Rock N Water summer camp.
As always, we are here to serve you so please let us know how we can better do that. I had a few people, who don't use Facebook, ask where my blog is hosted. It is right here.
Blessings,
Pastor Scott