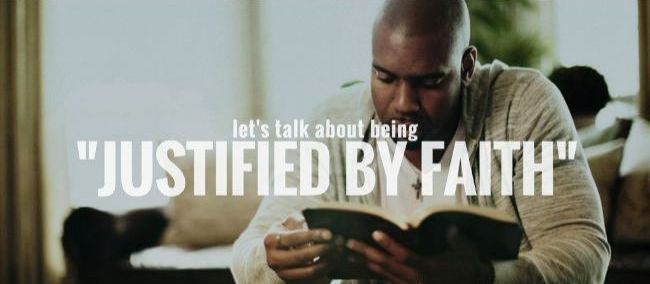 Rom 3:21-22 "But now the righteousness of God without the law is manifested, being witnessed by the law and the prophets; Even the righteousness of God which is by faith of Jesus Christ unto all and upon all them that believe"
Dear CBC Family,
Many centuries ago, a certain man moved away from the more populated area where he had grown up because he feared he would never be accepted by the king. He thought that had nothing to offer the king by way of service since he suffered from a devastating disability. But even more of an issue happened to be that his grandfather had been the previous king; his father stood in line for the throne; but both had died. Custom in that era did not look good for this man. Most kings succeeding someone from a different family quickly killed any perceived rivals to the throne.
So this man, fearing that the new king might kill him, lived far away from the capital city in an obscure, hard to get to place known as Lo-debar, a name meaning, "a thing of naught," or we might say, "a place of nothingness." The man's name was Mephibosheth, son of Jonathan, and grandson of King Saul. The one person that he wanted to accept him had the power to kill him—King David. But Mephibosheth had nothing to offer David to entice him to accept him.
Yet David chose to accept Mephibosheth. "Is there yet anyone left of the house of Saul, that I may show him kindness for Jonathan's sake?" David asked his servants. News arose that a crippled son of Jonathan remained alive. David called for him to appear before him. With much trepidation and probably an incredible case of the "jitters," Mephibosheth fell on his face before David. "Here is your servant!" he said to the king. Then, the most amazing words fell from the lips of the king: "Do not fear, for I will surely show kindness to you for the sake of your father Jonathan…" From that day onward, David took Mephibosheth into his own home where he ate regularly at the king's table and enjoyed the king's fellowship. David accepted Mephibosheth—not because he could do something for David or because he impressed David. The ground of his acceptance was in someone else—his deceased father Jonathan. David welcomed and accepted Mephibosheth in the same way that he would welcome Jonathan (2 Samuel 9).
Why tell this story? Because it offers a glimpse at our acceptance with God, that it is not found in our merit, what we can do for God, or our works that we might offer Him. God accepts us for the sake of His Son who died in our place. To be accepted by God is to be counted as righteous in His sight. Yet none of us owns such righteousness—not in ourselves. It's the righteousness of Christ that gives us, as sinners, acceptance before God.
This is what we have been looking at in the book of Romans for the past three weeks. Paul repeats twice in verses 21-22, "the righteousness of God"; why is that the case? His whole focus has been on the kind of righteousness humanity lacks but which is necessary to find acceptance with God. Keep in mind that the word means more than just being a good person. It's a legal term. Its message is primarily forensic or legal and has only a few glimmers of ethical or moral implications; yet those appear only after the legal declaration of righteousness has been made.
To fail to understand justification leaves one without hope, confidence or any assurance at all. This is why I have spent so much time on this. I pray it is making a difference for each of you. Whether this is just a refresher or completely new, we all need to remind ourselves of the gospel daily. How one is made right with God is one of the most important questions we could ever ask. If we get this wrong, then when we share with others they will get it wrong too.
This weekend we will stick with our text and deeply explore why God put forth Jesus publically, why it matters that God determined to do this in eternity past and why it is important to believe that today. I called the study "The Predestination of the Justified." The Lord goes to great lengths to inform us that Calvary was His plan all along and that part of that plan includes the redeeming of a people. The cross was not plan B. It was God's purpose in creating the world! Man did not thwart God's plan but actually fulfilled it. As the book of Acts says: Acts 4:27-28 "for truly in this city there were gathered together against your holy servant Jesus, whom you anointed, both Herod and Pontius Pilate, along with the Gentiles and the peoples of Israel, to do whatever your hand and your plan had predestined to take place."
God must be recognized as just before He can be relied upon as the justifier of sinners. How can someone in Central Asia or Africa or South America trust God to forgive if there is no basis for forgiveness? Our missionary work is worthless unless the promise of forgiveness and righteousness has a foundation in eternal justice. That's why Paul declares that the work of Christ on the cross demonstrates God's righteousness—or justice, in order that God may be seen as just or adhering to the eternal justice of His character and rule. There is much to cover.
Beginning this Saturday after service I will offer a time for Q&A in case any have questions. This was requested by a member so I'm throwing it out there to see if there is any additional interest. Let's try and keep the discussion related to the sermon or the book of Romans.
This weekend is also youth camp Taco Sunday fundraiser. Grab a few tacos and support a worthy cause.
June 29 and 30 is another all family in church day. We will have a shorter service and be studying the parable "the cost of discipleship" from Luke 14:25-35. Again, the parables are stories that have hidden spiritual meaning. This particular parable touches on truth over relationships, estimating the cost, war and salt. It is jammed with one overarching principle. I believe it is important for everyone, especially kids, to fully understand what a disciple is biblically. After both services we will be providing ice cream sundaes as well as root beer floats.
Praying for you all,
Pastor Scott