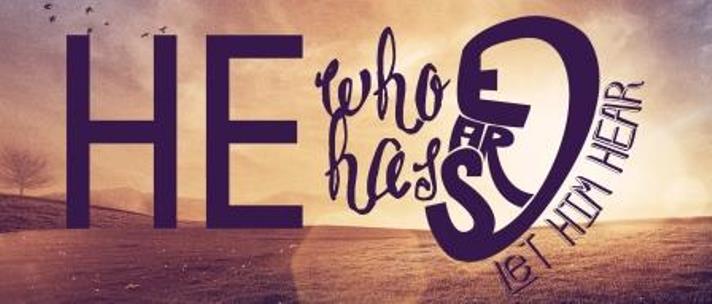 Luke 8:8 "He who has ears to hear, let him hear."
We live in a day where there is so much clamoring for our attention that the skill of listening is quickly becoming a lost art. We all have experienced having spoken to someone and then hearing those all too familiar words "what did you say"? People love to talk but very few know how to hear. While this can be frustrating between human beings if you apply it to God the results can be devastating.
Jesus often told His disciples to "be careful how you hear." As a matter of fact the parable of the soils is not about preaching or the Word but about hearing. It is this attribute that we will focus on developing over the next few weeks (Lord willing of course).
We left Habakkuk sitting in his tower after having poured out his heart in prayer and waiting to "see and hear what God will say". What is he waiting to see and hear? How does he determine what that is? Is it an audible voice or something else? Perhaps he had a vision? We do not need to speculate, we simply need to believe. Jesus said my sheep hear my voice so for the next few weeks we will look at in great detail how to hear from the Lord. This week we will start with the obvious in how we learn to hear His voice in His Word and move in from there. This series is one of, if not the most important sermons I have ever done. Do you want to learn to be an expository listener? Do you want to learn to recognize the still small voice? Do you know how to determine between hearing from yourself and actually hearing from God? If so join us over these next few weeks. In preparation revisit what we covered last week on preparing yourself to hear.
With Easter coming up in less than a month it is a great time to begin praying about who the Lord might have you bring to service to hear about the One who gave His life as a ransom for many. We will have a 6:00 PM service on Good Friday and then probably two Sunday mornings at 8:00 and 10:00 AM. The Saturday night service we will probably cancel since last year not many came because they wanted to come Sunday AM.
A couple of weeks after that is Taco Sunday sponsored by the AWANA group. More details about the event will be coming soon but I guarantee you will not want to miss out. Forget about Taco Tuesday we have tacos and Jesus. You can't go wrong with that! :)
Blessings,
Pastor Scott and the entire CBC Staff