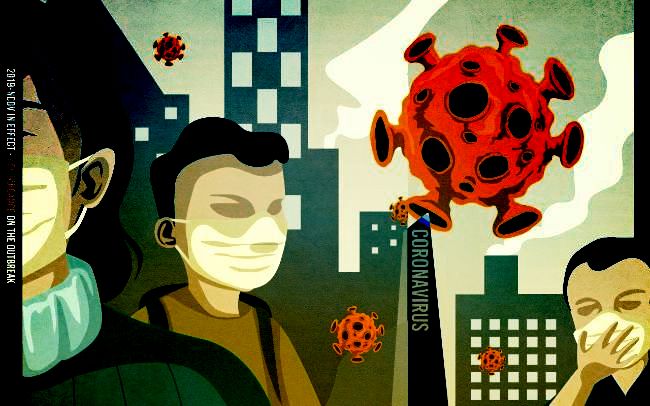 Isaiah 41:13 "For I, the Lord your God, hold your right hand;
it is I who say to you, "Fear not, I am the one who helps you."
Dear CBC family,
I never would have thought that I would walk into a Costco or Walmart and there be no toilet paper for sale. In the grocery stores the same is true. There have been runs on water, disinfectant and hand sanitizer. Some of these items are just about impossible to find. The panic created by a tiny virus has created a stockpiling effect so now there are shortages. After praying, I hit the third store and they were stocking the shelves with a load that just came in so I got my two package limit and went on my way to the office. I adapted (changed and modified to suit my purposes) the below from a Banner of Truth article.
"Self-isolation; pandemic; coronavirus; COVID-19. Just a few of the terms that have become part of everyday conversation in the weeks since the first outbreak of a novel coronavirus was reported in Wuhan, China on 31 December 2019. As of March 12 there are 129,304 confirmed cases and have been 4752 deaths worldwide, although those statistics are changing constantly and the cases of infection are thought by experts to be much higher than have been reported. Positively, there have been 68,661 people that have fully recovered so far (thank you Lord for your mercy). Of course there is reason for concern, but how should we as Christians respond to an event like this? How can we be salt and light?
1. We should bear witness to the peace of God
Christians are to be characterized by peace in the face of anxious circumstances. Is 26:3-4, "You keep him in perfect peace whose mind is stayed on You, because he trusts in You. Trust in the Lord forever, for the Lord God is an everlasting rock." Where does our peace come from? From fixing our minds on God and trusting Him. Whenever trouble threatens we need to keep our minds on the Lord. We need to remind ourselves of the many great truths about Him, His faithfulness, His promises and all that we have learned through countless sermons and hours of Bible studies, prayer and reading.
We believe, for example, in the sovereignty of God. That's something we need to keep our mind on as this virus spreads to every country and comes closer to our own doors. We believe that the Lord is King over all the forces of nature. As you probably know, the coronavirus gets its name from the crown-like appearance of the virus. That name and shape simply reminds me that Jesus is the true king over all things including this virus.
Psalm 29 tells us that the Lord sends forth His voice (as He did in the beginning at Creation) and nature obeys. Verse 10 says He sits enthroned over the flood; the Lord sits enthroned as king forever. The word for flood is the word used of the great flood in Noah's day — a fearful disaster that engulfed every nation and every creature with the breath of life. Yet the Lord was in control of that, bringing His good and righteous purposes to pass. As the Lord asked Job in Job 38:8-11 ". . .who shut in the sea with doors when it burst out from the womb, when I made clouds its garment and thick darkness its swaddling band, and prescribed limits for it and set bars and doors, and said, "Thus far shall you come, and no farther, and here shall your proud waves be stayed"? God sets limits not just for the waves but for everything in the universe. The waters of the flood are often a symbol in Scripture for evil — but they are not outside of the Lord's will. Viruses, no less than the waters, are subject to His mighty will. As R. C. Sproul used to say, there cannot be a single maverick molecule anywhere in the universe that is outside of God's sovereignty.
Not only is the Lord sovereign, but He is infinitely wise. Rom 11:33, "Oh, the depth of the riches and wisdom and knowledge of God! How unsearchable are his judgments and how inscrutable his ways!' That means not only that He knows what is best, but that He knows the best way of bringing about what is best.
The Lord is also gracious. He is sovereignly working all things for the good of His people. Rom 8:28, "And we know that for those who love God all things work together for good, for those who are called according to his purpose." That's something we need to keep in the forefront of our minds, if we want to know perfect peace. God knows what He is doing — and what He is doing is working all things for His people's good. We may not always understand the details of God's plan, but we know that it is perfect.
Who knows how the Lord will use this disease in China, for example, where the Christians of Wuhan and many other places have put themselves in harm's way to show practical love and help to the people of their city. This comes at just the time when the Chinese authorities are cracking down on Christians; new regulations came into effect on February 1 which "will require religious leaders and organizations to display complete devotion to the Chinese Communist Party."
We also know that the Lord has ordained the exact number of our days. Ps. 139:16, ". . .in your book were written, every one of them, the days that were formed for me, when as yet there was none of them." Nothing in all creation can alter the time and the manner of our death–it will be whatever the Lord in His sovereign, wise and gracious will has ordained. Death cannot be brought by "bad luck" causing us to get infected and die "before our time." We are immortal until our work is done. So Jesus tells us not to worry, because it will not add a single hour to our lifespan (Mt. 6:27).
2. We should bear witness to the coming judgment of God
Pestilences are one of the "signs of the times" Jesus mentions in Luke 21:10-11, "Nation will rise against nation, and kingdom against kingdom. There will be great earthquakes, and in various places famines and pestilences. And there will be terrors and great signs from heaven." Pestilences includes this virus as well as all others. These disasters and pandemics will characterize the approach of the return of Christ. Of course these things have always been true of human history, but Jesus describes these things as the beginning of the birth pains. As a birth approaches the contractions are closer together, more intense, more painful. Isn't that the point about the signs of the times? As we draw closer to the Lord's return, these things become more frequent, more intense and more painful. So we are kept alert, in a constant state of readiness for the Lord's return, without ever being able to predict a specific date. It is always imminent, but never predictable. Every generation will think, with genuine cause, "It could happen in my lifetime."
Every outbreak of pestilence, whether a localized epidemic or a global pandemic, should remind us of the Lord's words, and force the question upon us, "Am I ready for Christ's return? Have I bowed the knee to Jesus as Lord? Am I living the faithful, godly life He has called me to? Will I be put to shame at His appearing?" The coronavirus should impress upon us afresh that this world is passing away, that history is not going round in circles but heading towards a great and terrible Day of judgment. It should drive us to pray and to witness to the lost around us with ever greater urgency.
It is striking how frightened so many people are by this virus. It has shaken the world, perhaps especially the economically developed nations of the world, where people feel immune and secure against so many dangers. But now they are confronted by a force that their wealth and medical advances cannot save them from; there is no vaccine at present, nor is there likely to be any time soon. This virus is no respecter of persons. It cannot be contained. The world is at its mercy. And yet the vast majority of people will not contract this disease, and the majority of those who do will not die from it. How much more terrified should people be of the judgment of God when it sweeps over them suddenly, unstoppably, affecting every person who has ever lived, no matter where in the world they are? This pandemic, and every pandemic, is a small, pale shadow of the ultimate judgment of God. In some ways it is a grace of God pointing us to flee the wrath to come. It is shaking the world awake to its own mortality. While there is no vaccine for the virus there is a vaccine for God's judgment. There is a cure. But it is only found in Jesus Christ, who bore the full effects of the virus of our sin to deliver that cure to us."
How a Christian handles themselves during this time is critical. We are NOT to be overly fearful, panicking, selfish, or unloving towards others. We aren't to fight over the last package of Charmin at the store. Instead, we are to show hope, confidence, peace and trust and that will cause people to ask a reason for our hope.
Many churches I know of are feeling the effects of this outbreak in the form of low attendance and a big drop in support. It seems that some people think they can take better care of themselves than God can. I am confident of better things in your case beloved. Obviously, don't come to church if you are sick (let me know so we can pray though) but please don't drop supporting the Lord's work. The opportunity for the gospel is great right now and we need to know you are with us. Rise church for this could be your finest hour!
This weekend I am planning on continuing in Romans but am feeling an urge from the Spirit to address the flock with the Sovereignty of God over all things (including the coronavirus) because I sense some believers are overly afraid. It's going to be okay!
I close with a word from our God: "Fear not, for I am with you; be not dismayed, for I am your God; I will strengthen you, I will help you, I will hold you up with my victorious right hand." Isaiah 41:10
Blessings to you dear one,
Pastor Scott