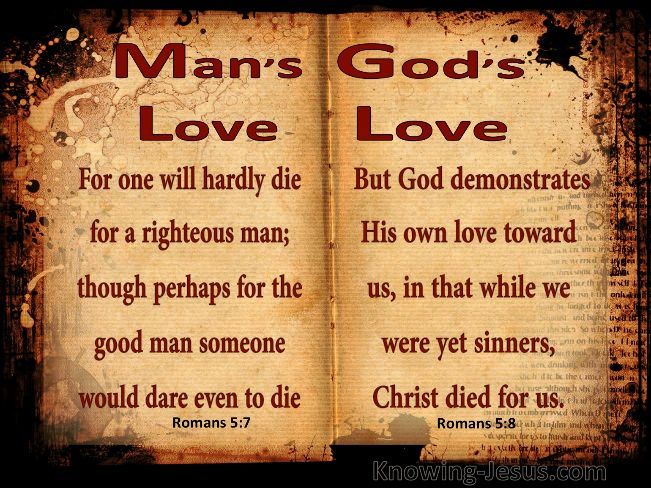 Dear CBC family,
I pray that your week is being blessed and that you are being a blessing to those around you.
I have been doing a lot of meditating this week on Romans. It truly is the most amazing book in the entire Bible. It often stirs up very interesting conversations whenever any of its precepts are mentioned or discussed. Some people are angered by Paul's incredible statements while others use them to beat lost people over the head. Neither of those are acceptable Christian responses to the infallible word of God.
Let's pick a text from Romans and see how we should respond to others based upon it. Let's use a text that is doctrinal to show that there are personal applications from any text God has given.
Romans 5:7-8 "Very rarely will anyone die for a righteous man, though for a good man someone might possibly dare to die. But God demonstrates his own love for us in this: While we were still sinners, Christ died for us."
What is the difference between a righteous and a good man? Why would someone (perhaps you) be more willing to die for a good man, but not so much for a righteous man? What is Paul's point in all this? These are great questions and here is where language makes all the difference.
The word "righteous" means "always behaving according to a religious or moral code"; and the word "good" means "high quality or standard, either on an absolute scale or in relation to another or others". In other words, a righteous man is simply "upright or just" in his relationship with God, while a good man is considered "benevolent" or a blessing toward people in general. In our passage, Paul tells us -- rarely will anyone die for a righteous man, but maybe for the good man -- the slight difference is because of the good man's benefit to his fellow man. This word is an adjective which means that this term "good" is given to him by other men. It is a sign of their approval. This approval by men is seen as valuable but a heart to obey God in righteousness is seen as worthless. Unfortunately, the world, and many in the church, are hung up on "good" men instead of "righteous" men. Paul says men are willing to sacrifice for other men who are benevolent towards people but unwilling to sacrifice for those who pursue godliness. As you can see, Paul is applying Romans 1-3 saying we tend to look for, and value, human "goodness" in men rather than the "holiness" that comes from God.
As we read this text we can easily follow the thought of the passage. The big idea is: most of us would not give our life for another person, but if we would it would be because the person did "good" to others, not because they were holy. This first point shows us that our propensity is to value people above God. The first application is simple. Pray for God to give us a right understanding of what is truly valuable.
Secondly, Paul uses this example to draw a stark contrast to God's love for us: "While we were still sinners, Christ died for us." By inference Paul is asking: "If most of you wouldn't die for a righteous, or even a good man, then who would ever die for a sinner?" Answer: No one. Yet this is precisely how God chose to demonstrate His love for us!
The person above (who might die for a good man but not a righteous man, who values people above God) sees this text as God affirming our "goodness" instead of securing our "righteousness." From that comes the idea that what is means to serve God is to "do nice things for good people." In that understanding we lose the intent of the text. Rather, what we should take from the text is that Jesus died for the lowest of the low in order to bring them to God. God was not looking for good men to bless but wicked men to make righteous. He does this not because people are good, or even would be, but because He desires to make for Himself a righteous people.
Driving Paul's point home: isn't it interesting that God says in Ps 14:1 "there is none who do good" and in Romans 3:10 "there is none righteous, no not one." This means that no man would ever die for any of us since we were neither good nor righteous in God's sight. This leaves us outside of grace, without hope, or help, in this lost world. However, God, who is rich in mercy, did what no one else could, or would, do: while we were sinners Christ died for us. This is solely a testimony to His grace and kindness to us in Christ.
So how do I apply this great truth? Simple: Jesus Christ is our example in all things. The Bible says in 1 Peter 2:21 "For to this you have been called, because Christ also suffered for you, leaving you an example, so that you might follow in his steps." One aspect of suffering I want to point out to you is in this text. It is the suffering for doing the will of God. It should not surprise you that many who name the name of Christ are not true believers and thus still value human goodness. They see obedience and righteous living as "hostile" to the goodness of men and will always come against true godliness with venom. They may call you a Pharisee or hypocrite for saying people should obey. Do not let their name-calling bother you my brother and sister. Remember Jesus and set your face as a flint and press on. Do not simply do "good" deeds, those approved by men - to be seen and praised by men, but live righteously doing works that glorify God because His strength is needed to accomplish them. May our goal in all we do be that the lost would see something more than just simple philanthropy.
What is Jesus' love like? The Bible does not leave us to guess Hebrews 1:9 "You have loved righteousness and hated wickedness." As you can see, that is not the love the world admires but it should be the one the believer does.
Blessings to you dear one,
Pastor Scott