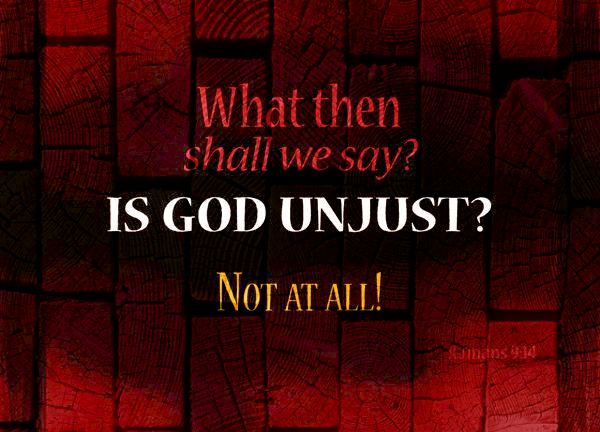 Romans 9:14 "Is there injustice with God?"
Dear CBC Family,
THE DOCTRINE OF ELECTION: these four words are some of the most controversial words in any church. Some love them and some deny them but, at the end of the day, all that matters is how does the Bible define them. There is no doubt the Bible says much on the topic.
John Piper once said that how one views the doctrine of unconditional election is one of the best ways to test whether we have reversed roles with God. He goes on "This is a timeless problem, but especially in the modern world that assumes human autonomy and questions all authority and takes the judgment seat to decide if God even exists.
Paul addressed this issue most forcefully in Romans 9:6-23. As he did, he heard the ancient and modern objection, "Why does [God] still find fault? For who can resist his will?" his answer to that was, "But who are you, O man, to answer back to God? Will what is molded say to its molder, 'Why have you made me like this?'" (Romans 9:19-20). In other words, it's not fitting for you to reverse roles with God. He's the potter. Few doctrines test more clearly whether we are judging God or God is judging us.
When the book of Job is finished and all Job's defenses are spent, and all the misleading counsel of Eliphaz, Bildad, and Zophar has faded away, the sum of the matter is this: "Then Job answered the LORD and said: 2 'I know that you can do all things, and that no purpose of yours can be thwarted. . . . I have uttered what I did not understand, things too wonderful for me, which I did not know." God responds, "Hear, and I will speak; I will question you, and you make it known to me." In other words, Take your proper place, Job, and listen to me. Learn from me; don't teach me. Trust me; don't accuse me. To which Job says finally, "I had heard of you by the hearing of the ear, but now my eye sees you; therefore I despise myself, and repent in dust and ashes" (Job 42:1-6). The doctrine of election puts us to the test as few others to see if we are in the shoes of the Job who accuses, or the broken and contrite Job who trusts.
It is hard for a fish to know that it is wet. Wet is all there is for a fish. A fish doesn't even think of it. So it's hard for a modern person —a person living in the last two hundred years—to know that he is arrogant toward God. Arrogance toward God is all there is in the modern world. It's the ocean we swim in—the air we breathe. It's woven into the fabric of our minds. We don't even know it's there. We can't see it, because we look through it to see everything else.
Here's the way C. S. Lewis put it: "The ancient man approached God . . . as the accused person approaches his judge. For the modern man the roles are reversed. He is the judge: God is in the dock. He is quite a kindly judge: if God should have a reasonable defense for being the god who permits war, poverty and disease, he is ready to listen to it. The trial may even end in God's acquittal. But the important thing is that man is on the Bench and God in the Dock." ("God in the Dock," in Lesley Walmsley, ed., C.S. Lewis: Essay Collection and Other Short Pieces [London: HarperCollins Publishers, 2000], p. 36)
That's virtually what it means to be modern: the imperceptible feeling - the assumption we don't even know we have—that it is fitting for us to question and even judge God. The doctrine of election is one very effective test of whether you are being delivered from the indigenous ocean of arrogance in the modern world, or are still drenched to the bone. It is good for us to be tested in the crucible of God's sovereignty, so that we may say with Job: "I had heard of you by the hearing of the ear, but now my eye sees you; therefore I despise myself, and repent in dust and ashes" (Job 42:6)."
This weekend we will continue to follow Paul's argument through Romans 9 supporting both why God's promises do not fail and why so many of Paul's kinsmen perished. These truths are difficult but they are the foundation of incredible security. I called the message "Is Unconditional Election Unjust"? Join us as we explore the nature of the God of the Bible. Romans has 16 chapters so let's not answer a matter before we go through all of them. We are in the most critical part of the book.
We will have an update in early June about the city and state mandates. The church leaders will meet and address the next steps towards full reopening. If you have some input on that please email it to me so I can present it to the men.
Blessings,
Pastor Scott