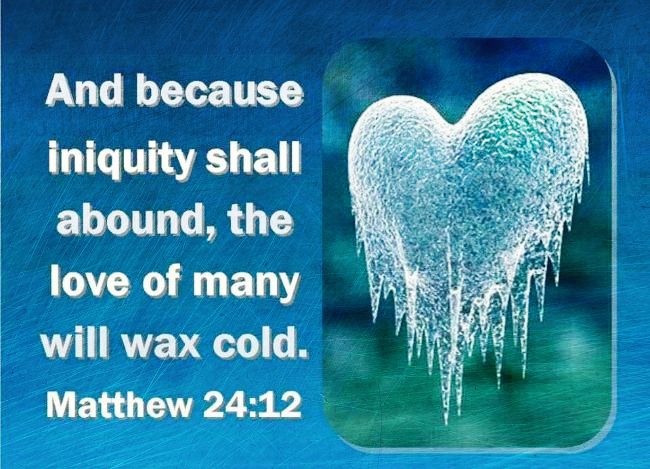 Matthew 24:12-13 "And because lawlessness will be increased, the love of many will grow cold. But the one who endures to the end will be saved."
Dear CBC family,
It seems like every week lately the Lord is providing "living illustrations" of texts I am going to share with you in the weekly messages. This week was no exception and has turned out to be a very significant one as well. As I was walking yesterday I came across three elderly ladies who were talking about how they were not ever going to go back to church since the pandemic had provided the opportunity for doing other things that they found out they preferred more than church. I did not join in their discussion but just kept walking by and prayed for their eyes to be opened. I wondered what happened to their souls and two scriptures flooded my mind. The first was "in the last days the love of many will wax cold" followed immediately by "because you are neither hot nor cold I will spew you out of my mouth." I realized I had just passed a literal fulfillment of a warning from Scripture.
This interaction has been weighing heavily on my heart as I have been preparing for our time together and I feel a very strong sense that the Lord has an especially timely word for us. Naturally Romans 8 is going to be the springboard but there will be a couple of other texts that will bring light to his stirring in my spirit. This sermon has a specific purpose which I do not want to give out too much information on right now but I can tell you that if you take to heart what is shared it could be a very significant point for you. I will also say that if you have not tried a live service this is THE one you might want to attend as I feel there is something very profound that the Holy Spirit will be doing. We meet Sunday evening at 5:00 in the sanctuary. We start promptly at 5:00 so arrive a bit early to get through screening if you are coming.
As we ride out the many difficult circumstances of our day please remember that God does not expect us to do that alone. Sure, we have the Holy Spirit but the Lord has provided His people as the means by which he ministers to us. Please keep the church family in your prayers. Many of us are going through the ringer but together we are strong.
Blessings to you my brothers and sisters.
Pastor Scott