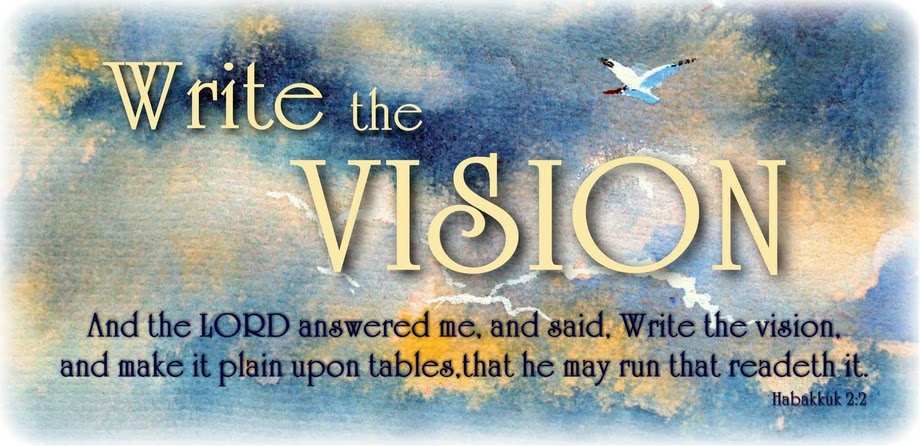 Hab 2:2 "And the Lord answered me, and said, Write the vision, and make it plain upon tables, that he may run that readeth it."
What a blessed Easter we had this year. I was so thankful for what the Lord did among His people as we gathered to celebrate the resurrection of Jesus Christ. I was especially touched to hear a particular story from a visitor who stated that they were not just invited to the church but had been told about Jesus by the person who invited them "for what seems like forever". They said that their friend lived a completely different life than anyone else they knew and spoke about Jesus and the Bible constantly. He told her of her need for forgiveness in Christ to escape the coming judgment and urged her to consider eternity. The visitor then went on to tell me that because of their friend they now have lots of questions about Christianity and the Bible and so they are coming in this weekend to talk to me about them. I am praying that the Holy Spirit will bring her to the Savior in our meeting. This is what outreach at its core, biblically speaking, is really all about. It is not doing nice things for people and leaving them in their lost condition. A person's biggest need is Jesus! Christianity is not a "come and see" religion but a "go and tell". I cannot begin to say how proud I was of the young man of our fellowship who was busy about the Lord's work in sharing Christ with the people he works with. He models what we are all called to do by Jesus Himself in Matthew 28 "as you are going make disciples".
This weekend we have a lot going on. We have a new membership class starting after the Sunday morning service in room 500. We will also have one of our missionaries, the Robinsons from Arizona, who will be sharing at a potluck in room 700 after the morning service. If either of these are of interest please call the office and sign up.
We will be back in the book of Habakkuk this weekend as we join our friend on his watchtower waiting to hear from the Lord. It has been a while since we have been with him but I felt it was important to address what the Bible teaches about "hearing from God". There is so much bad teaching on the topic that it is necessary to establish what truth is so that people do not fall into superstitious behaviors. As we join Habakkuk in chapter two we will be instructed by the Lord in "Running with Clarity". I believe this will be extremely helpful for all of us who wish to obey the Lord in what He has called us to do. So many people do not run with clarity but rather wander in obscurity. Come and learn how to get the Lord's vision for what your life is all about. I can assure you that if you come wanting to hear from the Lord you will.
Lastly don't forget about "Taco Sunday" on April 30th right after the Sunday service. The cost is $6 per person. You must sign up at the info booth so we can ensure there is enough food. Where are you going to eat tacos for $6? These tacos are not like the 99 cent tacos from Jack in the Box but the real deal (Polo Asado and Carnitas) which are going to be fantastic. The church will provide all the toppings, beans, rice and chips. If you want to enter the salsa and guacamole contest then bring your best stuff. I suppose the winner can have their picture taken with the Easter Bunny…….just kidding. :)
Blessings,
Pastor Scott and the entire CBC Staff