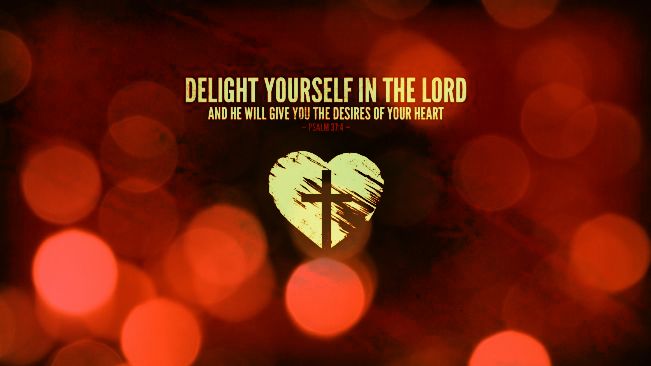 Psalm 37:4
"Delight yourself in the LORD,
and he will give you the desires of your heart."

Dear CBC family,
Last night my son and I were installing some LED lighting in the alcoves inside the sanctuary. The LEDs use substantially less power than the halogen bulbs, are cheaper and last 500xs longer too. Everything was going well until I moved the ladder and the flashlight on the ceiling fell off and landed on my head. I didn't even see it coming but heard a noise that sounded like a baseball being hit by a bat at Petco Park. I saw a bunch of purple and black flashes and that was about it.
My sister-In-law is a nurse so she gave the information about what to look out for. She gave the usual ones: severe pain, blurry vision, dizziness, nausea etc. but added a few others as well. I then wondered what spiritual lesson there was for me to learn since ultimately it was God who dropped the flashlight on my head. (There are no such things as chance Pr 16:33). Tozer said "To become effective people of God, then, we must know and acknowledge that every grace and every virtue proceeds from God alone, and that not even a good thought can come from us except it be of Him." Nothing happens apart from His purpose and will.
Every symptom has a cause and getting the cause right will ensure the right treatment is given for a full recovery. That same principle applies in our spiritual lives. This weekend we will be exploring the symptoms and treatment for correcting deceitful desires. This is part three of a very important series in understanding how sin sues our desires to wage war against our souls. This weekend we will specifically learn how to tear down a deceiving desire. One reason why this is so important is that the one who controls their desires also controls their part in sanctification. We can grow tremendously as we get a grip on these truths.
I am often asked when we will be meeting together again in the sanctuary. The truth is I do not know. Things change rapidly regarding mandates, openings and closures so I do not want to pick a date and then have to cancel it like Disney just did. For now, we will be meeting on Sunday evening at 6:00 PM. This is going very well and so we will continue this for the foreseeable future. If we will not be meeting due to a shut down requested by the city or state we will post that immediately on our website so if you don't hear otherwise we ARE meeting.
As things progress I will keep you updated. I will be making a Facebook video blog tomorrow for those who are interested. I'll probably wear a hat to cover the big bump on my head.
Again, I want to thank those of you who are standing with us financially, showing up to help out and being so supportive during a very difficult time for so many. Please keep the church, and our family, in prayer as we do for you. Together we will make it through all these things. I know it has been four months but look at it this way……we are four months closer to the end of this than we were at the beginning. I guess that means the glass is half full. As a man thinks so he is.
Blessings my brother and sister,
Pastor Scott