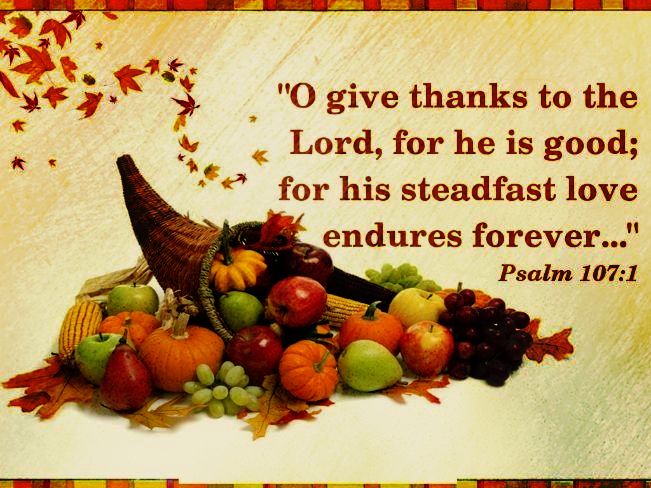 Happy Thanksgiving beloved!
Does it seem like the holidays to you? So much has changed these last few months that even the things that were so predictable and familiar feel strangely different. Whether that describes you or not one thing is certain: Thanksgiving is here!
I believe this year we have a great opportunity to redeem Thanksgiving and turn it into a great blessing for our families and loved ones. With a little bit of planning, we can make a memory that will impact those long after the day is over. Try reflecting on your present blessings—of which every man has many— and not on your past troubles, of which all men have some. I think if we are honest our blessings far exceed our troubles.
When the first Thanksgiving biblically? I suspect it was in the garden when Adam must have expressed thanks to God for His many blessings that had been given. The Bible does not record that event so we need to move forward a few pages. The first clearly written "Thanksgiving Day" was on the Feast of Tabernacles, or Booths, when Israel celebrated the blessings of the harvest God had given them. It was a time of joy and celebration, a time of thanksgiving for how God has blessed them. It was a time of prayer, repentance, and petitions for more blessings in the coming year.
Moses wrote: "Celebrate the Feast of Tabernacles for seven days after you have gathered the produce of your threshing floor and your winepress. Be joyful at your feast – you, your sons and daughters… For the LORD your God will bless you in all your harvest and in all the work of your hands, and your joy will be complete" (Dt. 16:13-15). Notice that this "thanksgiving" was a joyful celebration for God's past provision. The amazing EFFECT of this gratitude and joy was a promise of God's future blessing resulting in "complete joy." Thanksgiving is the quickest path to joy!
When America was founded, the settlers also celebrated with a time of feasting and joy in God at the end of harvest, thanking God for all he had provided, and asking for his continued blessing. Presidents down through the years would sometimes call for days of thanksgiving to refocus the nation on God and his blessings.
During the terrible days of the Civil War, in which an estimated 620,000 men died, Abraham Lincoln called upon the nation to give thanks to God, who had blessed the harvest. He wrote in part:
"No human counsel hath devised nor hath any mortal hand worked out these great things. They are the gracious gifts of the Most High God, who, while dealing with us in anger for our sins, hath nevertheless remembered mercy."
Then Abraham Lincoln established a permanent Thanksgiving Day. Yes, in the midst of all that grief! He turned America's attention back to God, their Creator, in whose name they had established this nation.
Once again, America finds itself in the midst of great civil unrest. As Thanksgiving approaches, our nation is in grave danger of destruction because of our sins. In our time of national desperation, with our nation on the brink, consider the full scope of God's week of thanksgiving. Let it be both a time of repentance and a time of celebration, for the sake of our country's future.
Ask the Lord what activities you can do to refocus your family on God on this special day. Perhaps we could have everyone write down how God has blessed them this past year and put it in a "memory book"? I'm starting one of these in my office called "The Book of Thanks" in which I am recording God's faithfulness to the church family so that when life is hard I can read it and be reminded that "as He has been He forever will be." With a little creativity, you may spark something that leaves a far great impact than the turkey and gravy. I have noticed that every revival in history began with repentance and gratitude. That is what this country needs more than anything else, so let it start with us.
I read an article that said expressing gratitude is the number one way to help restore relationships, improve your outlook, lower your blood pressure and keep you from getting sick. For our health alone, it's well worth spending a few minutes a day focusing on giving thanks. As my mom taught me many years ago "Thanksgiving is a gift even the poorest of us can give and not become poorer, only richer, by giving it."
Psalm 107:1 "Give thanks to the LORD, for he is good; his love endures forever." When life is sweet, say thank you and celebrate. And when life is bitter, say thank you and grow.
Thanking my Father for you on this day,
Pastor Scott