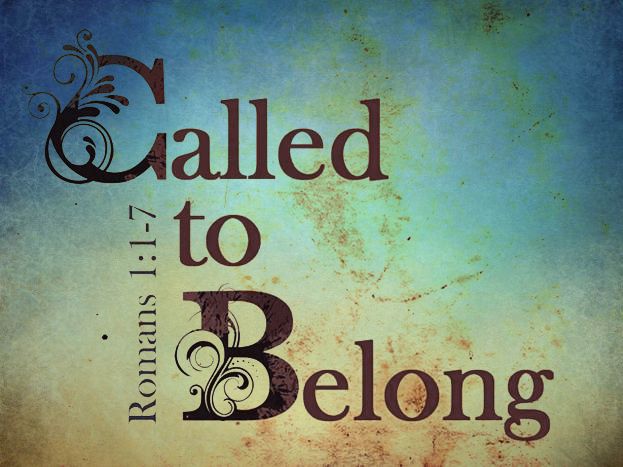 Rom 1:7 "To all those at CBC who are loved by God and called to be saints: Grace to you and peace from God our Father and the Lord Jesus Christ."
Dear CBC Family,
How can we be sure that "everything works together for our good"? I know you are saying "because God says so" and that is certainly reason enough but there are caveats in the text that sometimes cause us to loose grip on that great promise. One such statement is "for those who love God". We see that and might get discouraged thinking we do not love Him like He ought to be loved. We also might wonder how much love is needed to obtain the promise. These kinds of questions have been going on through the ages. How do we address them in a way that brings hope as well as remains faithful to the text?
Join us this weekend as we deal with this topic from Romans 1:7. Remember I told you we would go back to chapter one. Now that we have looked at the love of God last week we are now able to go back into the introduction and glean much more from it. Paul states "To all those in Rome who are loved by God and called to be saints: Grace to you and peace from God our Father and the Lord Jesus Christ." The key to the massive promises of Romans 8 lies in the greeting of Romans 1. Join us as we dig deeply into the calling of God which creates the prerequisite of the promise. It will both amaze and encourage all at the same time.
On Monday many of us will be headed to John MacArthur's conference for pastors. Please pray for us as we spend the week seeking the Lord. This year's topic is "faithfulness in ministry." There will be more than 4,500 pastors in attendance and I expect Jesus will be speaking very clearly to us all about His church. What applies to the pastor also applies to the congregation…….let us all seek to be faithful to what the Bible calls us to be and do.
As the days at the conference are very long, and sermon prep is not easily done, I will be having a guest speaker next weekend. I can personally vouch for him as I have known him all my life. It is my brother, both in Christ and by blood, who will be sharing on Saturday and Sunday. I know you will be blessed by what he shares from the Word of God.
Please keep us informed if you are ill or need someone to come and visit you. The scripture places the responsibility on the sick and hurting to notify the elders to come and pray for them. James 5:14 "Is anyone among you sick? Let him call for the elders of the church, and let them pray over him, anointing him with oil in the name of the Lord." So often when people are hurting, sick, discouraged or fearful they don't tell anyone. We can't even pray if we don't know you have a need. Part of being in a body is sharing our burdens with each other. There are many in the flock who would love to pray with and encourage you. Don't deprive yourself of this blessing.
Each person in a church has a role and the body works best when we all use our gifts for the glory of God and the building up of the saints. Biblical exposition does the heavy lifting of building up a church. Without careful and faithful teaching of the word we simply have philanthropy. That said, it is the individual believer, faithfully using their spiritual gifts in a church body, that will see the Lord's power change both them and the person they minister to. Ps 107:31-32 "Let the people thank the Lord for his steadfast love, for his wondrous works to the children of men! Let them extol him in the congregation of the people, and praise him in the assembly of the elders."
What a great God we serve!
Blessings,
Pastor Scott