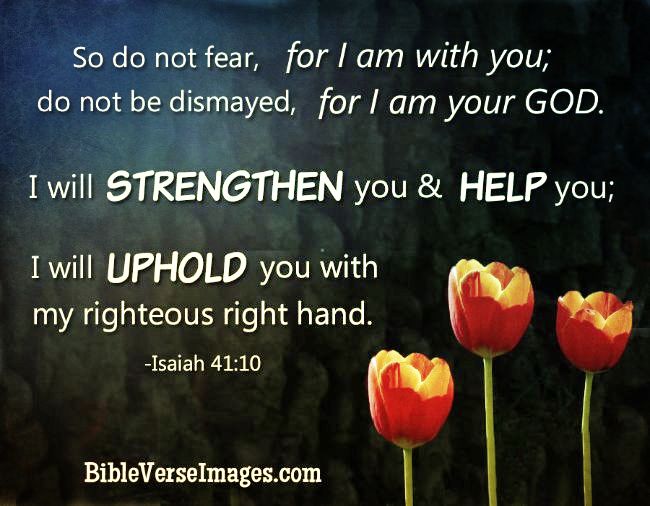 Isa 41:10 "fear not, for I am with you; be not dismayed, for I am your God; I will strengthen you, I will help you, I will uphold you with my righteous right hand."


Dear CBC family,
I am so grateful to be a part of our church. The love and kindness you have once again shown during my dealing with the pinched nerve in my back has been very humbling. As Paul said in Ephesians 1 "I do not cease to give thanks for you, remembering you in my prayers, that the God of our Lord Jesus Christ, the Father of glory, may give you a spirit of wisdom and of revelation in the knowledge of him, having the eyes of your hearts enlightened, that you may know what is the hope to which he has called you, what are the riches of his glorious inheritance in the saints, and what is the immeasurable greatness of his power toward us who believe." I am truly blessed.
I am taking a nerve medication, doing physical therapy and getting a spinal injection as first steps to see if I can avoid surgery. If my pain and foot weakness has not improved in four weeks, then I will have surgery. I'm okay with either option the Lord has already chosen. I'm just grateful that He has provided help. I knew that He would do so but not because of something in me but because of His promise "I will help you" in Isaiah 41:10.
This weekend we will be looking at the correlation between God's promises and faith in Romans 4. There is so much in the couple of verses we will cover. I believe that this sermon will have a very deep impact on many in the fellowship so please come prayed up and ready to receive what the Lord will teach. Also, bring a friend who wants to understand what to make of the world and their life. I believe there is a very appealing concept in being a recipient of God's promises as opposed to being confused and afraid in a world that is perishing.
One of the things that this nerve pain has done is cause me to slow down. I only have strength for the critical matters of life. In many ways this has also been a blessing. It also gives me a little more time to read and pray which again is a blessing. One thought I had this morning while praying for the church (you all, not the building) was that the reason God put me in ministry was to give my life in the study and teaching of His word for YOUR sake. That calling I gladly receive as I have no greater joy than to see you grow, and walk in, the truth. So while you might not be able to spend hours and hours a week praying and studying I am happy to do so for your sake. My hope is that God will use my efforts to benefit and grow you in Christ.
Until I see you this weekend may the Lord bless and keep you in His amazing grace.
Blessings,
Pastor Scott